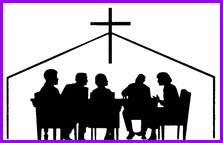 Tranmere Parish Pastoral Council was first established in 1971 and is a representative body of parishioners of        St Joseph's working in close collaboration with the clergy to further the mission of Christ and his Church in the parish.
The Parish Council meets bi-monthly usually on the evening of                                                               the fourth Thursday.
Our Mission
We seek to:    Welcome all people as we aim to strengthen our Christian Community
Be a caring faith community responding to God's love in our service to all as we live out the Gospel
Involve people of all ages in the life of the parish to meet individual community needs.
Plan for the future with hope and understanding, recognising changing needs and expectations
Current Serving Members  for 2021-2022
Chairperson: Alan Tyson
Vice Chair: Edward Konieczny
Minutes Secretary: Stephanie Roach
Parish Priest: Fr. Roy John Elavumkal (ex officio)
Parish School Principal: Adrian Grbin (ex officio)
Members: Mark Battistella, Robert Burns, Joy George, Chris Gillen, Bronwyn Gleeson, Ken Greenshields-Hannah, Edward Konieczny, Patrick Maher, Stephanie Roach, Alan Tyson
AGM 29 April 2021 – Chairman's Report
AGM 29 April 2021 – Parish Priest's Report
AGM 29 April 2021 – School Principal's Report -St. Joseph's Primary School